Messenger Chatbot, a cure for the declining reach on Facebook?
Let's start with the latest changes on Facebook: The 2 billion user social network recently made the front page once more. Not due to yet another personal data leak, but because Facebook announced a major change in its algorithm leading to advertisers being moved to a dedicated tab. This has immediately generated a significant decline in the reach of publications (as they no longer appear in the news feed of Internet users) that turned into a drop in the number of interactions with the publications of the pages. According to a study conducted by Buzzsumo and Buffer on more than 20,000 Facebook pages from all sectors, the media has dramatically suffered from this unexpected change of algorithms. More precisely, the overall engagement decreased by up to 64%. This is even worse for movie pages and artist pages for which the engagement dropped by 68.4% and 70.6% respectively.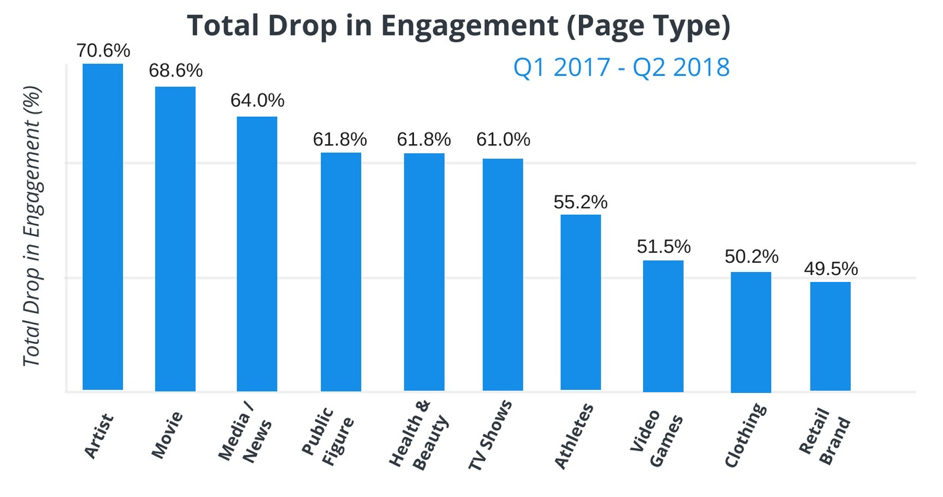 So, how can the online press (and other industries as well, but we focus here on online press) preserve an audience and build a database of faithful readers on this platform when they're this dependent on the social network?
What is a chatbot?
A chatbot is a robot managing the relationship between a brand and its visitors and customers. Typically, a chatbot is able to interact with internet users by holding a conversation with them in order to answer their questions and to send them specific content. Note that in this article, we focus on chatbots implemented on Messenger (Facebook's messaging service).
Is there any magic here? Clearly not.  A chatbot automatically answers the most common questions of a Facebook page subscriber, thus relieving Community Managers of this part of their job. Typically, a chatbot is seen as a powerful AI, while very often, Messenger chatbots merely follow a script to interact with users. More concretely, the designers of these robots collect the most frequent questions and interactions of Internet users, and come up with specific messages for each of them that the chatbot will use if the user's request corresponds to what they were programmed for. But that's not all. After the first interaction with a chatbot, it can also start another chat or send content to the user.

A chatbot on Messenger. Yes, but how?
Before creating and installing a chatbot Messenger, you have to ask yourself the following questions:
What are the goals of the bot? A chatbot on Messenger addresses several objectives at once, such as acquisition, working on customer loyalty or simple management. Indeed, answering automatically to the most common questions is a great time saver for Community Managers while providing high responsiveness to users (which is a well-known metric monitored by Facebook).
For what type of people are you designing the bot? Your subscribers are not all the same. You need to have a clear strategy about who you target with your bot.
What kinds of interactions do you seek to have with your subscribers? Would you like to send them daily news updates? Lead them to purchase a consumer good? Or improve your customers' loyalty by offering them a new fast and easy customer service? All of these will make you communicate differently with your subscribers. You might want to design your bots for all those objectives.
Who else should be involved? Clearly, depending on the goals you set up, you might not be able to fully automate the process. For instance, if your chatbot's job is to improve the user service, it might not be able to give a relevant reply to all possible questions. In that case, you must make sure to have a real person take over and make sure that your customer gets an answer to her request.
What will your strategy for designing the chatbot be? And for accompanying the users after they've talked with the bot?
All the points above are crucial to correctly framing your chatbot project and ensuring that it is aligned with your marketing goals. Once this step is over, you still need to identify the best way to implement it.
An efficient implementation can go from a solution based on workflows (then the complexity of the workflow will depend on the functionalities you have in mind), to AI if you think it is best. Creating a chatbot (intended to be used on Messenger) can actually be free, not taking into account the human time spent on the project. If you do not have the expertise in-house, turnkey solutions already exist. Some specialized companies also exist to assist you in the process. . Should you want to create your bot yourself, Facebook provides you with documentation to accompany you in the creation of your bot.
Is a Messenger chatbot just a marketing hype?
Currently, the term chatbot is a marketing buzzword, as 'predictive marketing' was for a while.  Should you use a chatbot on Messenger just to follow the marketing trend? By no means. As we have previously seen, a bot should be aligned with your needs and fully integrated in your marketing strategy as a means to extend your capabilities. A chatbot exhibits many marketing advantages and clearly is complementary to a community manager:
Bots work around the clock: your community manager will finally be able to sleep more than 3 hours a night, and the users will be able to discuss with you at any time and get answers in a few seconds. The degree of patience of Internet users has significantly dropped with the extensive use of social networks. Bots are the perfect tool to relieve this pressure as well as generate value for you and your brand.
Bots are a great time saver: Internet users tend to contact you for the same reasons and the associated replies are the same. The community manager of your brand will finally be able to save valuable time while raising the quality of service provided to the users (thanks to the real-time responses) for classic requests. In addition, the human will only intervene upon complex user requests. Clearly your community managers will then have a higher added value to your customers.
Bots are cheap to set up: as I said before, any brand with the necessary human resources in-house can develop its own Messenger bot easily.
Bots help re-engage users and fix the decrease in reach: all brands have experienced an engagement decrease (more or less) due to recent changes. So, using a chatbot can be a very good way to stop this trend by directly sharing the news with users who have subscribed to the chatbot.
Bots can leverage Messenger's market penetration: according to Conversationnel, an agency in Lyon that did a study on the 10 key figures in the chatbots market, instant messaging applications already had 3 billion active users each month worldwide in 2017. Facebook Messenger is home to 1.3 billion active users each month. Let's face it: your Facebook subscribers are likely to be active on Messenger.
Bots can help collect data: the role of a Messenger bot is not limited to answering or initiating a conversation with users. It is also a powerful tool to collect useful data, typically on the most common user requests. Collecting and leveraging this data is a gold mine in the digital world. This additional information on current user requests may guide your marketing strategy, bring out new services, etc.
Bots can manage the one-to-one relationship crucial to create an active community: it is a well-known fact in the marketing business that mass marketing messages no longer work. We are in the era of personalization and even if chatbots are still very simple, AI-wise, you can still leverage them to create privileged relationships where the individual is at the center of your social media strategy.

4 examples of chatbots used on Messenger
The 20 Minutes Chatbot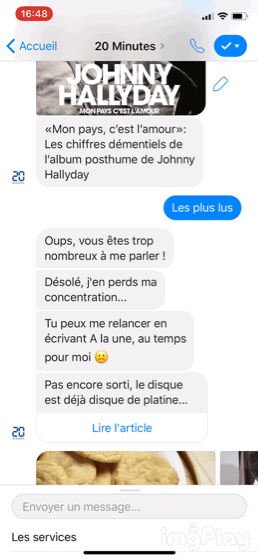 20 Minutes is a brand with high Facebook presence. Its bot allows many interactions with users. For instance, it is possible to:
Request the PDF of the daily newspaper to read it on your mobile
Check out the horoscope of the day
See the 5 articles 'In the spotlight'
Obtain the summary of League 1 or Top 14
Etc.
Typically, this chatbot gathers the contents that you could find in a newsletter. Unfortunately, the bot does not provide personalized content depending on the profile (or history) of navigation and the behavior of the user.
The Allociné Chatbot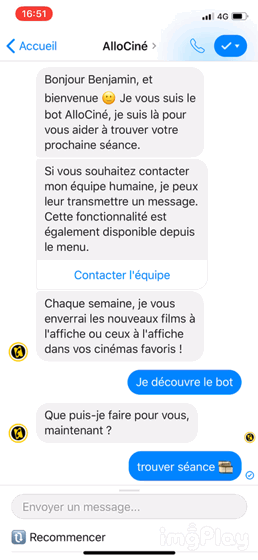 Being a well-known reference website for movies, it is not surprising to see that Allociné is very present on Messenger via a chatbot. You can use it to:
Find a movie show
Look for nearby movie theaters
Discover a movie
The bot is also able to send the video link of a trailer upon request.
The CNN Chatbot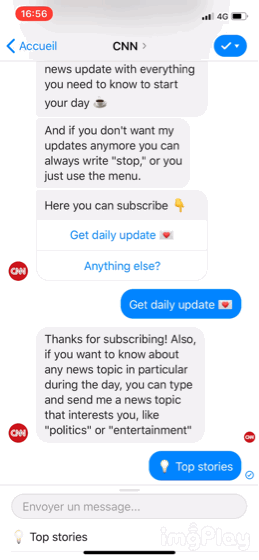 As with the 20 Minutes bot, the well-known American CNN bot allows navigating between 'Top stories' and various topics.
Miambot
At Mediego, we love everything related to food. So let us introduce you to this French startup targeting a market where giants like TripAdvisor or Yelps dominate: meet Miambot.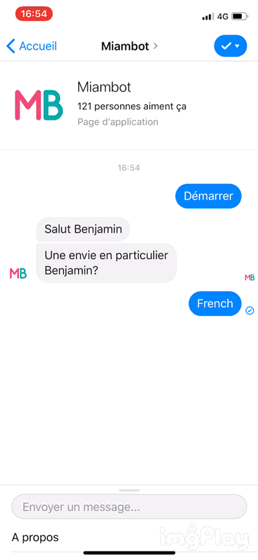 Miambot allows you to discover great places to eat close by in just a few clicks. This way, you avoid spending ages on apps like TripAdvisor and going over menus, photos and reviews of 150 restaurants around you. The choice is deliberately limited to help you quickly find the right place to have dinner.
Which applications for the online press?
The major update of Facebook's algorithm dramatically hurt the online press market, not surprisingly though, given that online media are still highly dependent on Facebook as a major source of traffic. This is even more stringent as many players in the sector still struggle to monetize their audiences and continue to rely heavily on online advertising. The decrease of the number of posts on Facebook necessarily resulted in a huge traffic drop, impacting along the way the associated advertising revenue. In this context, the Messenger chatbots are promising.
Based on the examples above, let's see how you could use a Messenger chatbot to achieve your goals:
Attract more visitors to your website: the monetization of audiences via advertising is still widespread in this sector. To boost your traffic even further, you could recommend daily:

a selection of the latest news
most shared news, local, by topic, etc.
summaries on sports events
participation in Facebook contests.
Convert visitors into subscribers: more and more online press players are seeking to monetize their audiences beyond advertising, typically through subscriptions with additional services. Messenger chatbots can help convert your readers into premium subscribers. For instance, the chatbot may recommend the following content to meet this objective:

Subscription offers
Personalized offers
Add paid content in the news you send
Incentive to subscribe to newsletters.
How is this complementary to personalized newsletter?
As opposed to what you may think, personalized newsletters are complementary to the use of a chatbot on Messenger especially when it is used by the online media to broadcast their daily news. Chatbots can target an audience that would not naturally visit your site. In addition, as Messenger users are not yet used to receiving marketing messages, the opening and the reactivity rates may reach up to 80% and 50% respectively, as reported by Neilpatel. Such rates are extremely difficult to reach with email marketing. Yet, using a chatbot on Facebook Messenger shifts the dependency you have on Facebook from the social network to Messenger. This makes you less vulnerable to Facebook changes to the main algorithm but you will still be dependent on any change they decide to make to Messenger (and as we already know, the social network never asks for consent to their changes, nor does it care about the consequences for owners of Facebook pages).
Nevertheless, using a Messenger bot to promote your news and send users to your website is a great way to reach a wider audience, one that can eventually subscribe to your newsletter. Even if only a small proportion of users do (say 1% to 4%), this audience will not leave you due to changes decided by Facebook.
This seems promising for now, hard to predict for how long though.
Mediego is specialized in content personalization for the online press. We put our expertise at your service to enable you to broadcast the right content to the right people at the right time. Several players in the sector such as Ouest-France, Publihebdos, La Liberté, etc. already use our customization service. Want in? We would be happy to give you a demonstration of our customization tools.