Why should you go for the double opt-in for your newsletters?

Relying on the double opt-in for email subscription is known to be one of the most effective ways to improve the deliverability of your newsletters and the engagement of your readers. Regardless, many marketing professionals are still reluctant to adopt it and keep using the simple opt-in. While there may be many reasons behind this, the main one is arguably the fear of witnessing the number of subscriptions dropping. In an attempt to address these concerns, we will cover:
What precisely is the double opt-in?
Does it allow indeed to get more qualified subscribers?
Is it mandatory to ensure the GPDR compliance?
How to get over the fear associated to using double opt-in?
What is the double opt-in subscribing method?
Let me first remind you that the simple opt-in consists of collecting the user's consent upon subscription to your newsletter or your commercial communications, etc. More precisely, the user will provide the requested information through a web form and click on a call to action button to validate her subscription. At this stage, she will be automatically added to your contact list.
The double opt-in consists in adding a validation step before adding the new subscribers to your mailing list. Following the validation of the web form, an automatic email is sent to the future subscriber to tell her to confirm her subscription (usually a simple click in the email is enough to validate the subscription). The alternative for the potential new subscriber is:
Click to validate her subscription
Choose not to subscribe: even if the registration form has been validated, if the user does not click on the validation link in the email, her email will not be included in your database.


The assurance of qualified, engaged and loyal contacts
Highly qualified contacts, that will open all your emails, click all over them and share your content are the dream of all marketing professionals. Telling you that the double opt-in will provide you such a guarantee would probably be an overstatement, the double opt-in is not a magic solution indeed.
Yet, it exhibits many advantages that will definitely be of interest to you to provide:
A deliverability matching your expectations, this, as long as you follow the emailing best practices. Effectively, in order to validate their subscription, the users should open the confirmation email and click on the confirmation link. This represents a clear opportunity for marketers for such emails exhibits a high open rate (typically users who just filled a subscription form are in an 'email opening' mindset). Take advantage of this opportunity to encourage people to move your newsletters to their main inbox or add the expedition address used for your marketing campaigns to their address book.
A way to get in touch with your subscribers: sending out an email automatically after the validation allows you to get in contact with them, this is a great opportunity for you to let them know what they will get in your next emailing for instance.
A way to relieve the marketing pressure: if you were honest about the contents that you will be sending and the frequency of your emails, your subscribers, aware of those details, will perceive the marketing pressure differently just because you warned them. However, try not to take advantage of this trust to change the frequency or the content. They won't like it.
An automatic bot filtering: bots are all over the Web and are now able to fill a subscription form. This is clearly damaging to the ROI of your marketing campaigns because bots never interact with your contents. By adopting the double opt-in, you will get rid of them for they are rarely able to click into automatic emails.
Engaged subscribers: you will get contacts that have confirmed, not once, but twice their interest in you. This commitment is clearly promising for your future email marketing campaigns.
Optimized costs: given that sending out newsletters is not free, optimizing the commitment through the double opt-in subscribers optimizes the costs of your campaigns as well.
GDPR compliant (we will come back to this topic below).

Is the double opt-in compulsory to be GDPR compliant?
According to search results associated with the double opt-in on Google, it seems that many of you are wondering whether it is compulsory to use it to be GDPR compliant.

To be GPDR compliant, you need to be able to provide evidence of the consent of your subscribers. In this context, the double opt-in turns out to be very useful even if not mandatory (as long as you are able to prove the consents).
So, no the double opt-in is not compulsory to be in agreement with the GPDR but this subscription technique seems to match the values ​​conveyed by the GPDR and can turn out to be very useful in this context as a proof of consent.
Still scared?
As I mentioned in the introduction, the fear of seeing the number of subscriptions decreasing by using the double opt-in persists among marketing professionals. If despite all the points mentioned in the article, you are still not inclined to use this method, I invite you to discover two examples of innovative registration confirmation.
Creapills:
While the email asking you to confirm your subscription to the newsletter is not exceptional, the page that invites you to go to your mailbox do so is an opportunity to remind subscribers of the interest of having subscribed.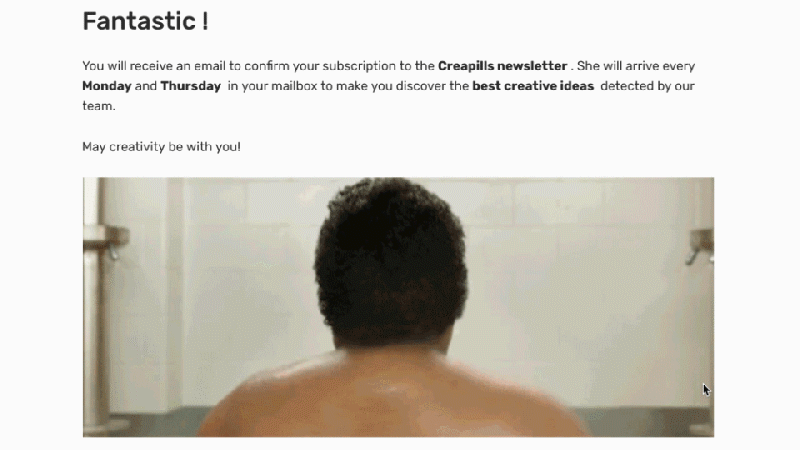 Curaterz:
A newsletter sent every other day containing multiple and varied topics such as series, video games, but also unusual topics such as repellent magnets or gourmet kebabs. In short, an original mix of topics delivered in a newsletter.
After clicking on the subscription confirmation link, you are redirected to the web confirmation of your registration and Curaterz advises you to add the email address of the editorial office to your address book to ensure that you will receive their future newsletters. Finally, a last email is sent to you to confirm your registration.
The double opt-in is a great way to fill your database with engaged. Now, to ensure that this commitment is preserved over time, no method is currently more effective than the customization of your newsletters. Should you want each of your subscribers to receive fully personalized content, do not hesitate to ask us for a demonstration!