Personalize your email campaigns
Offer content tailored to each subscriber and increase your click-rate
Send a ultra-personalized message to your subscribers
Enrich the content of your emails, leveraging the contextual data (date, time, location, weather, etc.) to deliver a message relevant in content and time.
Deliver the most desirable content to your clients, limit the spam effect and ensure the loyalty of subscribers.
+ 41% increase in click-rate for personalized promotions
+150% clicks in the emailings when the content is in lines with the subscribers' interest
100% personalization of your automated emailings: welcome, follow-up and confirmation message…
How does it work ?
We accompany you in 3 steps
Choose your campaign model.

Integrate the provided HTML code regardless of the email platform.

Simply send your emails and Mediego transparently manages the personnalization for each subscriber.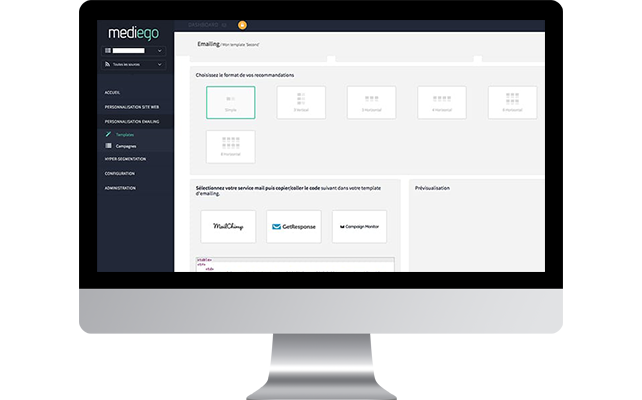 Choose a powerful

solution

A personalized message minimises the rate of unsubscription and ensures the deliverability of your email campaign.

Bring the odds in your favor with temporal and geolocalised contextualisation of your emailing campaign.

Configure and then compare the performance of your personalized emails with an intuitive and customizable dashboard respectiong your constraints.
We're happy to give you a demonstration!
Display content that catches each user's attention when they visit your website.
Identify your clients in their purchasing phase with dynamic categorization of your audience.